All of our instructors at Oceanftont Fitness & Yoga have had intensive Yoga training and are qualified to teach beginner to advanced classes. We honor the class and the students who are present.
Owners & Instructors
The Owners of Oceanfront  Yoga, Connie Weisberg and Melanie Mochel, met each other while taking Yoga in the mid 90s. They both became yoga students together at the International Yoga Institute, where they developed a strong bond during their intensive training. Their friendship continued to develop as they worked together in the original Yoga program at Wareing's Gym. The vision and creation of Oceanfront  Yoga is the result of their passion for wellness and giving the community a place to practice and grow.

   Connie Weisberg connie@oceanfrontyoga.com Connie Weisberg started in the mind/body business during the 80's as an owner of the first boutique style fitness business at the oceanfront of Virginia Beach. She has been fortunate enough to spend her entire adult life serving others through various fitness and yoga modalities. Her background is varied through teaching many styles of yoga and fitness as a trainer and master teacher for over 35 years.  " I humbly sit at the feet of all the teachers who have influenced my life, without whom I would be an empty vessel."

"Yoga is healing and challenging and humbling and fun. If we can maintain a sense of humor and see ourselves through a clear lens, yoga serves us through every challenge and joy in our lives."

 Having fun with friends one playful night….

Melanie Mochel melanie@oceanfrontyoga.com Melanie Mochel and her husband moved from northern Wisconsin in 1997. Preferring the warmer weather of the beach, they settled here to raise their two daughters. In 1998, Melanie began her yoga journey and quickly became a yoga aficionado. Encouraged by her teacher, Christy Brock, she began earning her teaching certification in "Raja" (Zen) from The International Yoga Institute in 2001. As a senior instructor of Raja, she continues to learn other styles of yoga through workshops and self study. Although Melanie is a very accomplished teacher of all levels and many styles, she is most known for her gentle approach to yoga. Helping others discover their path in yoga is what gives her the greatest joy as a teacher.

Melanie with Doug Swenson at Oceanfront Yoga in 2012.

Yoga  Instructors
Gabrielle Weisberg Cabreros :: Gabrielle's journey to yoga began with simple observance. She grew up watching her mother, Connie Weisberg, teach fitness and yoga to the patrons of Wareing's Gym. As a typically resistant teenager, she didn't completely buy into the idea of yoga right away. After all, that was "Mom's thing." After some on-and-off experimentation with different types of yoga throughout college, Gabrielle developed a more serious interest in the study of yoga philosophy and yoga practice in 2009, when she decided to try her hand at yoga teacher training. A wedding and a major career change interposed and choreographed the next couple of years of Gabrielle's life, leaving little room for serious dedication to and study of yoga. Gabrielle spent this time cultivating her marriage to her husband, Rey, and learning the ins and outs of teaching under the mentorship of her high school English teacher. But, Gabrielle always knew that she would eventually return to yoga and that her return would signify a major life change, when the time was right.Gabrielle's calling to yoga sounded once again in the summer of 2011, when she spent six weeks living in Asheville, North Carolina for graduate school in English literature. The amazing community yoga center, and skilled and dedicated yoga teachers, as well as the local and sustainable restaurants and retail shops throughout Asheville, inspired Gabrielle to pursue a more simplified, Spartan-like existence with yoga as her centering point. Vigorous asana practice over the summer reawakened Gabrielle's body, as well as her mind, to the possibility of becoming a yoga teacher. Her two years of experience teaching high school English at Cape Henry Collegiate School gave her the confidence she needed to assume the role of teacher with adult yoga students. She sought guidance from her mother, Connie, and received her yoga teacher training certification (200 hour level) in February of 2012. Gabrielle enjoys the opportunity to share the benefits of yoga and yoga philosophy with anyone who seeks truth, balance, and peace.

Gabrielle Weisb

 
Heather Race :: Originally from New York I moved to Virginia Beach in 2005 with my husband and 2 kids. I have always been athletic and love the physical challenge; tae kwon do, heavy weight lifting, spinning, running etc., anything to keep my body and mind moving.In 2011 an ankle injury slowed me down and changed my life forever. Nursing my ankle injury my yoga journey began with taking a Jivamukti class with my daughter. I found the practice melting away pains and stress of my hectic and stressful daily life; which helped carry me through the day with lightness in my body and heart. I was hooked and began to take more classes. I fell in love with the effects it was having on my body but more importantly the effects it was having on my mind. My mind felt calm and peaceful. After this discovery I wanted to share this wonderful feeling with others. I received my 200-hr Teacher Training from Oceanfront Yoga in February 2012 and jumped into teaching, eager to share my love for yoga with others. Inspired by my teacher Connie Weisberg and peers at Oceanfront Yoga my intention is to foster a conscious, empowered and happy environment so that every student leaves in a peaceful state of mind. I infuse my passion for yoga in each posture, giving gentle but encouraging cues with particular emphasis on breath and enjoyment of the present moment.

Heather Race

Cindy Cullen-Huls is a certified and Yoga Alliance registered yoga instructor.A New York native, Cindy moved to Virginia Beach and ocean about 20 years ago and lives with her husband and two children. With the calming ocean as her background, she has practiced yoga for over 13 years, and completed the intensive Yoga and Vinyasa teacher training certification program with the esteemed Yax Hot House Yoga's studio. Cindy also assisted in the Fundamental beginner's course taught through the studio.Drawing from a variety of yoga styles including Hatha, Ashtanga, and Kundalini, Cindy is continually developing her teaching style to better suite herself and her students alike. "Yoga, like life is a journey" She looks forward to sharing all the positive benefits that she has learned, and experienced, with others.

Cindy Cullen-Huls

Kate Tryon :: Kate's yogic journey began when she quit her job and moved to Satchidananda Ashram, aka Yogaville, in Buckingham, VA. After spending a month living and working as a Living Yoga Trainee (LYT), Kate realized that yoga would forever be a part of her life and returned to Virginia Beach wanting to continue her studies. Kate studied for her 200 hour yoga teacher certification under the guidance of Connie Weisberg at Oceanfront Yoga. In March of 2010, Kate returned to Yogaville to obtain her Laughing Yoga certification with Bharata Wingham. Recognizing the healing power of yoga, Kate strives to be the guide that moves others through their life-long yogic journey.Join Kate for Core Yoga!

Kate Tryon

ALLI BOUDREAUBorn and raised in Virginia Beach, I enjoy spending time in nature and at the beach. My journey in yoga began at Old Dominion University in the form of group fitness classes at the student rec center. I sought out yoga as a way to exercise and fell in love with the practice. I researched different styles of yoga and began to practice at home several days a week. My 200 hour yoga teacher training in 2015 introduced me to philosophies in yoga and how to live a mindful life. My goal in yoga is to instill a conscious connection between mind and body. A third grade teacher as well, I believe my life is best served guiding others. I am thrilled for the opportunity to guide students into a lifelong love of practicing yoga. Join me Monday nights at 7!

 Kyleigh Fitzgerald  Kyleigh has always been an extremely active individual and constantly seeking new adventures throughout her life. Her yoga journey began more physically, but the mental clarity and spiritual connection she found was what prompted her yoga teacher training. Kyleigh's enthusiasm and positive energy can be felt through her dynamic sequences and musical selection which prepare her students' bodies and minds for a deeper relationship to their practice. Her instruction doesn't stop at the studio doors, she also teaches on the beach and paddle boards in Chick's Beach, VA. One of her Sunrise Salutations classes had been featured on the Today Show this year, as can be seen here. Kyleigh's passion for teaching is to share its' healing powers through self-love and the peacefulness created in the mind, body and soul.
 
 Ariana Dixon : When I started practicing yoga six years ago I was looking for stress relief and physical fitness but what I discovered was that I was embarking on a journey that would affect my body, mind and spirit in the most beautiful and positive ways. Through mindful breathing, alignment of asanas and meditation I have discovered the infinite beauty, love and peace in the universe, all living beings and myself. It is my honor and joy to be able to share this beauty with others after being certified in January of 2015 under the instruction of Connie Weisberg.Ariana teaches Thursday evenings at 6:30. Come join her.
AMY GWYNN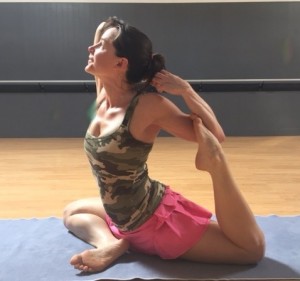 Amy Gwynn, "Bright Love" began her yoga journey years ago right after college where she studied music and piano performance.  Life has taken her through many paths from teaching music to law school to raising children.  As an original songwriter and successful intellectual property lawyer in Virginia Beach in 2015, Amy was inspired to take her yoga path deeper at the Wanderlust festival in Snowshoe, WV.  She delved into the Sadhana teacher training taught by Diane Malaspina in the fall, 2015, and is now teaching powerful flow classes in Virginia Beach with an emphasis on music and chakra awareness.
ALEX FORD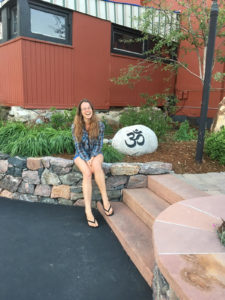 Alex Ford is a journeyer, although native to Virginia Beach. Alex loves to explore and dive deep in all aspects of life, holding space for all to do the same, if they so choose. From mountains to valleys and everywhere in between, the cultivation of present moment awareness through yoga – on and off the mat – has allowed openness for her to simply be with each experience and to choose her own resonance. In specific, Alex has been a student of kinesiology and anatomy since 2009 and is a certified 200HR Yoga Instructor. She gained her certification through Yax Yoga Concepts, and is also a personal trainer through the National Academy of Sports Medicine. She is continually humbled and filled with joy to share her knowledge and never-ending practice with her students.